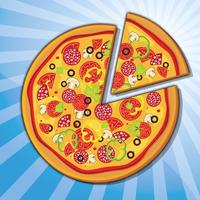 Pizza Mario - Slicer Chef
Free Get
Pizza Mario - Slicer Chef Description
Down at the food court pizza shop the chef is just throwing pizzas up in the air and shouting in how many pieces he want's them to be cut .
Is this insanity or just your kind of pizza party?
You are after all, a pizza ninja!

The ultimate pizza cutter game for a kitchen queen or a kitchen king!
Swipe the screen to slice the pizzas.
Pay close attention to Chef Mario, he'll tell you how many pieces and how many pizzas.
Whatever you do, don't cut them into too many pizza pieces and be careful not to drop them on the floor. Every pizza slice counts!

Slice the garlic for bonus points. Only your ninja skills can help us meet these pizza orders. We have to be making money to keep the kitchen of the pizza shop running.

Hit the kitchen timer to slow down time for a short while, making it easier for you to slice the pizzas.

We got all the pizza toppings you like, pepperoni, pineapple, onions, paprika, mushrooms and of course cheese! Maybe even fruit like pineapple, for some kind of fruit pizza!

The number 1 pizza slicing simulator for the master ovenist and pizza lovers of all ages.
Cut a pizza into two ...or three ... or four ..Up to eight slices !
Chef Mario makes the pizza and you are in charge of cutting them in exact the number of slices the customer wants.

Select your favourite toppings and pizza cutter and start cutting the pizza now, it's a real party!

It's not just a good pizza game, it's a great pizza game!

Zero Flag brings you the slicer games that no one else does!
Pizza Mario - Slicer Chef 1.1.1 Update