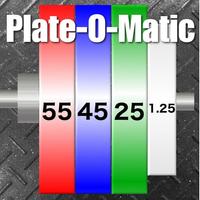 Plate-O-Matic
$0.99
Plate-O-Matic Description
Plate-O-Matic is the easy to read, easy to use way to calculate how to load weight plates on a barbell. Just type in your weight and press "GO" - Plate-O-Matic will show you exactly what to load. This version is ad-free.

This quick tool allows you to :
• See at a glance, exactly what weight plates to load onto your bar, in what order
• Change what weight barbell you are using
• Enter weights in either pounds or kilograms - Output is always in pounds
• Use International Weightlifting Federation standard colors to identify the weights in your gym

Remember : Weights are heavy, math is hard, think before you lift!
Plate-O-Matic 1.4 Update
The Crazy Pug has been busy at work on this version! New in 1.4:
• Preferences for Metric Input, Use of 55 pound plates and Bar Weights are saved!
• Full iPhone X support and support for iOS 11!
• Easier to read help text (just click the "?" button)
• Minimal iOS Version 10.3 is now required.
More