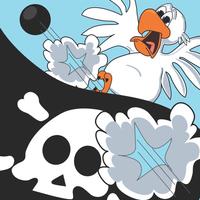 Pocket Buccaneers
Free Get
Screenshots for iPhone
More Screenshots for iPad
Pocket Buccaneers Description
Welcome to the High Seas, Captain!
Sail and plunder the high sea as captain of your own pirate ship in this explosive 3D Action Game.
Explore a map filled with treasure and hidden secrets, and battle enemies that will hunt you down to prevent you from collecting more treasure!

Try to become the richest pirate by looting the most treasure in "Survival" or try to prove yourself as the fastest pirate in the "Time Trial"-challenge!


Features:
- 3D Action Game
- Challenge your skills in Game Modes such as:
- Survival
- Time Trial
- Collect loot, items and treasure by exploring the "Survival"-map and from the many enemies that you'll sink on your adventure!
- Improve your skills as Captain and try to beat your own HighScores!
- 2 control schemes.
- Player statistics.

Recommended Devices:
iPhone 6, iPad Air 2, iPad Mini 3 or newer.
Pocket Buccaneers 1.3 Update
Ahoy, me Hearties!

Version 1.3 of Pocket Buccaneers is finally here and its the biggest update of the game to date!
New and updated Controls:
- New: Directional (Default).
- The directional-controls allows you to guide and navigate the ship, by moving the steering wheel in the direction you want the ship to move in.
- The new control scheme (Directional) is set as the default control scheme for both new and returning players, but you can off course change to the original control scheme if you prefer it.
Update and changes to existing controls:
- The first and original control scheme has been named "Original".
- The "Original" control scheme has been updated, so you can set the sensitivity/rotation of the ship to you own personal liking. 

- In addition to the new and updated control schemes, the game now saves and remembers your selected controls-, buttons- and rotation-settings between games.
All the new changes and additions can be selected, adjusted and changed from the "Controls" menu, which can be found in the "Main Menu" under "Options", and in the "Pause Menu" under "Control Settings".
- New: Personalize your Ship.
- Name your ship and announce your Pirate name to your crew! Upon starting the game (both for new and returning players) you will be asked to name your ship and tell the crew your pirate name!
- If you wish to change the them later, you can do so in the "Captain's Log".
- New: Captain's Log.
- "The Captain's Log" keeps track of your current high scores & statistics.
- The Log contains:
- Highscore (moved here from the Main Menu).
- Player Statistics -See various statistics that has been recorded by your crew, such as enemies sunk, treasure collects, shooting accuracy, distance traveled, time played and so much more!
- Edit Captain and ship Name - If you want to change your captain or ship name, you can do so here.
Adjustments and balancing:
- Game Modes:
- Time Trials: More precise timing!
- Mili and centi second is now being tracked and recorded, making it a little easier to settle if you're the fastest pirate on the seas amongst your friends!
- Survival:
- New item: Ship Debris.
- Ship debris contains a small (random) amount of health, treasure points and cannonball ammunition.
- All sunken enemy ships has a guaranteed drop of at least 1 ship debris.
- Increased start ammunition from 40 to 60
Improvements and general bug fixing:
- Removed "Highscore" from the "Main Menu" and replaced it with "Captian's Log".
- "Highscore" can be accessed from the new "Captains Log" in the "Main Menu".
- "Items and Description" menu has received a presentation overhaul. Text size has been made bigger and you can now scroll through and read all the games items on one page, rather than switching between multiple.
- "Sound Credits" menu has also gotten a minor update. Text has been made bigger, additional credits added and you can now scroll through the list.
- Added image and description for "Ship Debris" in the "Items and Description"-menu.
- Added sound effects when trying to shoot the cannons with no ammunition.
- Added an ambient sound to the main menu. The sound level can be adjusted in "Options" -> "Music & Sounds".
- Added links to the games Facebook- and Twitter-page on the "Main Menu" and in the "Credits".
- Added a email-link to the companys email in the "Credits"-menu.
- Fixed an issue with enemy ships sometimes moving like they had a rocket strapped on the back of them.
- Added current version number of the game in the "Options"-menu.
- Changed the green highlighted color in "Highscore."
- Moved a "Suicide" ammunition spawn in "Survival".
- General optimization and stability.
We would love to hear your feedback and criticism about the game, so please leave us a review on the AppStore and get in direct contact with us and the community by liking us on Facebook and following us on Twitter!
More