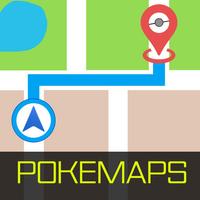 PokeMaps for Pokemon GO (Original)
Not Available
Removed
from the App Store
Screenshots for iPhone
More Screenshots for iPad
PokeMaps for Pokemon GO (Original) Description
Pokemaps is a great way to find & capture pokemon without removing all of the challenge that live spawn maps do...

This app uses the largest Pokemon database of ANY companion app or website in the world, allowing you to:
- See every Pokemon nest in the world. All nests are rated by how frequently they spawn new pokemon
- See every possible nearby pokemon spawn point & a history of what has spawned there
- See a list of the best farming locations in your area (Use this to rank up faster)
- Built in pokedex shows the real world spawn frequency of every pokemon.
- Search for a specific pokemon, or a list of all uncommon/rares.

*** IMPORTANT ***
THIS APP NO LONGER SHOWS LIVE POKEMON. Many players now feel that live spawn maps take all of the challenge out of the game. Pokemaps allows you to get hints & tips about where different pokemon are likely to appear, without telling you the exact location and removing all of the challenge from tracking them yourself.
******************


Pokemaps has numerous exclusive features not found in any other app, making it the best way to catch Pokemon!


This app also has:
- Real world pictures of pokestop & gym locations around the globe.
- Clean UI & lightning fast app launch time.
- Regular or satellite maps make it easy to navigate to any location. Includes 3D view for buildings when zoomed in.
- Safety is a huge concern when playing Pokemon Go. This app allows users to flag pokestops and gyms in unsafe or dangerous neighborhoods.




This app is an unofficial utility designed for use with Pokemon GO. Brass Monkeigh Apps is not affiliated with Nintendo or Niantic. If you have additional questions or concerns, feel free to e-mail support@brassmonkeighapps.com!