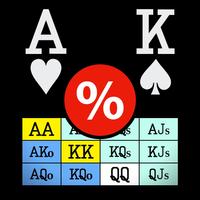 PokerCruncher - Advanced Odds
$12.99
PokerCruncher - Advanced Odds Description
The App Store's top Texas Hold'em odds calculator.
(The *Advanced* version of PokerCruncher.)

Take your game to the next level with PokerCruncher, an advanced professional-level hand ranges and flop texture analysis Texas Hold'em odds calculator that goes well beyond even PokerStove.

*** Pay once and enjoy forever ***
No in-app purchases/fees.
Continual improvement for many years.

*** Tutorial and videos on our website ***

*****
New: Links to videos and blogs on PokerCruncher (by pros/coaches) directly inside the app.
*****

"... incredibly powerful tool ... must-have application."
-- PokerSoftware.com
"... essentially functions as an advanced version of the PC's PokerStove application."
-- Bluff Magazine

Great reviews from poker experts, pros, and coaches, and on our TwoPlusTwo forum thread.
(See our website.)

--> Super fast and easy to use for basic hand matchups.
--> Advanced features like hand ranges, Deal-To-Flop, flop texture analysis, and many stats for serious strategy analysis.
--> Tutorial, videos.

Most poker odds calc apps are nowhere as powerful as PokerCruncher. Some don't even support random hands (let alone hand ranges), some don't let you enter hands for multiple players, some make an incomplete attempt at hand ranges, …

PokerCruncher is the full real deal, more powerful than even the PC's PokerStove application, and has a clean and easy-to-use interface.

Start using PokerCruncher today to improve your game and your results!

*****
iPhone, iPad, and Mac(Expert) versions available
*****

--- Completely General ---
Up to 10 players, with specific cards, random/unknown cards, or hand ranges for each player. Dead cards, %age's or n:1 odds, …

--- Fully General Hand Ranges ---
Poker is a game of incomplete information; we need to put our opponents on **ranges of hands**. PokerCruncher surpasses even PokerStove's features, e.g. range equity breakdown heat maps and hand combo stats. Full grid of all 169 starting hands, top x% of hands slider, select hand combos (suits and weights) in hand ranges, extensive built-in hand ranges, save/load and export/import hand ranges, …

--- Deal-To-Flop and Flop Texture Analysis ---
--- Many Stats ---
Hand type stats (OnePair, TwoPair, etc.), flop hit stats, odds for flopping draws and combination draws, OnePair breakdown stats, …

---
Save/Load and Export/Import Scenarios (Hands) and Hand Ranges
---

---
Enter/Edit Scenario Notes
---

--- Tutorial and Videos ---
If thinking in terms of hand ranges and flop texture analysis (techniques advanced players and pros use) are new to you, no problem, see the PokerCruncher Tutorial and videos on our website.

*****
See our website for our strong free app update history over many years.
Follow us on Facebook and Twitter.
*****

GENERAL AND OTHER FEATURES:
+ Runs locally on device, internet connection not needed
+ Fast Monte Carlo simulation, complete enumeration for some common cases
+ Completely general tool, e.g. up to 10 players
+ Specific cards, random/unknown cards, fully general hand ranges, for each player
+ Generate random player and board cards to set up what-if and test scenarios
+ Dead cards
+ Fold/Un-Fold players
+ %age's or n:1 odds

Please see the PokerCruncher Tutorial and videos on our website for more information.

App Store reviews are greatly appreciated, thank you.

*****
Also please check out our companion app Tournament Cruncher (ICM).
*****
PokerCruncher - Advanced Odds 12.4.1 Update
Improvements for the "View Card Removal Effect" setting/feature, e.g. to the 4x4 Hand Combos (suits) view.
1) Add extra clarification in the UI for the behavior of the "View Card Removal Effect" setting: takes *card removal effects* into account, but not *range removal effects*. So, enter a player's specific hand as *2 specific cards* from the *card deck*, not as a (1-combo) *hand range*.
2) Add an info. alert for the above usage-case (1-combo hand range).
3) Show card removal effect in the 4x4 Hand Combos (suits) view (if this setting is ON): dim combos that aren't live due to card removal effect.
* Note that these combos are still ON/OFF editable in the range (e.g. a combo can be in the range but not live).
* Also note that combos are also (slightly less) dimmed when you multi-select cells in the range grid, but this is a different dimmed meaning (multi-select) than card removal effect (the latter dimmed meaning only applies when you have exactly one cell selected in the range grid).
4) Update the Hand Range Editor screen's Help screens and the Tutorial with these changes.
5) Make dead cards in the card deck slightly brighter for better visibility, and also do the same for the board's non-dealt cards (cards to the right of the Deal-To setting).
6) Rename the 4x4 "Suits" view to "Hand Combos" view in the UI and the Tutorial.
If you like PokerCruncher and our continuing work, please consider writing an App Store review, thanks!
-RJ, PokerCruncher, LLC
More