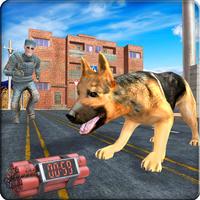 Police Dog City Prison Escape - Chase & Clean City From Robbers, Criminals & Prisoners
Free Get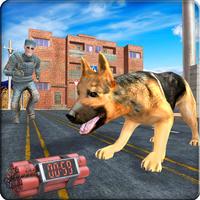 Screenshots for iPhone
More Screenshots for iPad
Police Dog City Prison Escape - Chase & Clean City From Robbers, Criminals & Prisoners Description
The city crime rate is almost zero at the moment. But the thugs escaping jail can lead to an increased crime rate in the city. As a trained frontline dog, take up the challenge to chase down the jail break prisoner and stop prison escape.Become a real police suit dog to keep a watch on gangsters, robbers and criminals.
As an in charge police dog of jail and city security job, prevent prison escape and catch jail break prisoners. An ultimate action packed game that tests your skills to stay alert all the time. Breaking laws is no more an option when a real brave dog is there to catch the jail escaping prisoner to save the city from crime. Police Dog Prison Escape is an amazing Dog Simulator game that involves a true challenge of making the crime prison escape missions unsuccessful.

You have been chosen as an expert dog to stop and hunt the robber involved in the jail break crime. Use your sniffing skills for chasing down and lockup dangerous criminals in Police Dog Prisoner Escape. Assist the police officer as a skilled K-9 cops dog to end up the criminal activities. An unlimited Dog chase adventure game!

Police Dog City Prisoner Escape is an action packed crime games with the best chasing jail break prisoners and catch the criminal.Catch the approaching criminal with weapons to attack you by attacking him with your razor sharp canine teeth and nails. Aim the target to attack the prisoner, catch him and send him back to jail. You are a super trained German Shepherd sniff dog to track down any prison break criminal escaped from the jail security officers. The security squad of the prisoner has to deal with a lot of prisoner chasing. Police Dog Prison Escape involves angry prisoner, brave dog on duty, prison break escape missions and criminal chasing. Your chance of survival depends upon your wisdom and careful planning of a prison break out chase. Put on your extreme stealth mode to chase sneak out prisoner and his criminal cell inmates and gang members in this amazing jail break & police chase game.

Police Dog City Prison escape features:
√ Clever hunting & sniffing dog simulator game play
√ Chase criminals in amazing City environment
√ K-9 Dog catching criminals action pack simulation game
√ Thrilling & challenging dog prisoner chase missions
√ Smooth & intuitive controls
√ Stunning & High quality 3D graphics

A prisoner escape game gets more adventurous with an angry German shepherd sniff dog. Dog & Prisoners rivalry is getting serious. The police game takes a new twist by making you in-charge of the city security job.
Police Dog City Prison Escape - Chase & Clean City From Robbers, Criminals & Prisoners 1.0 Update
This update is signed with Apple's latest signing certificate. No new features are included.
More