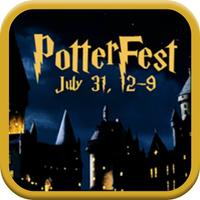 PotterFest
Free Get
PotterFest Description
POTTERFEST in MEMPHIS, TN

It's Harry Potter's 36th birthday, AND the release of the highly anticipated Harry Potter and the Cursed Child!

Join your fellow Potterheads in an all day celebration of our favorite boy wizard's birthday, and revel in the excitement of learning about the next part of his journey. Prepare your finest robes for Madam Malkin's Costume Contest, and study up for our OWLs Trivia, hosted by Kevin Cerrito. Have your fortune told in Divination class and strike down your enemies at our Dueling Club. Win glory for your house in our Quidditch Beer Pong House Cup! Other events and acitvities include a Sorting Ceremony, lifesize Wizard's Chess, the Fat Lady's coloring class, and many, many more! Specialty drinks and snacks available all day.

So accio your friends, dust off your spellbooks, and get ready for the best celebration this side of Godric's Hollow.

TICKETS GO ON SALE MONDAY, JUNE 6. $15/per ticket. Children under 3 are free.

Stay tuned for schedule and vendor announcements and beer pong sign ups!

All ages from 12 - 6 pm, 18+ from 6 - 9 pm.