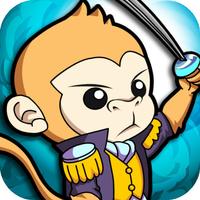 Powder Monkeys
Free Get
Screenshots for iPhone
More Screenshots for iPad
Powder Monkeys Description
★★★ 1MM DOWNLOADS IN UNDER 4 WEEKS & REACHED #1 OVERALL IN CHINA ★★★

An ice age has descended upon Earth, wiping out mankind. Of all species left on the planet only a group of monkeys and bugs, hidden in pockets of Earth, survived. But a ray of hope appears when the golden banana tree sprouts to life. Magical warmth returns to the planet and the mysterious golden tree sparks a rapid evolution of the survivors.

Take command your crew of "Powder Monkeys" in a quest to gain control of the golden banana tree, defeat the villainous captain..Fidel Mantis and his crew of nasty bugs!

**********

REVIEWERS ARE PLUNDERING TOO!
"If you have ever had a hankering for the high seas this is a good place to start. Anchors aweigh!" TouchArcade.com

"The game is simple and the game looks great!" 148Apps.com

"Powder Monkeys gets a score of 9 out of 10" The App Shack

**********

DECK IT OUT!
Make your ship the most powerful in the fleet by purchasing bullets, power-ups and resources in the Powder Monkeys store!

BATTLE!
Choose your ammo and blast away! Deciding between hard-hitting coconuts, defensive umbrella bullets or devastating nukes will be a Captain's toughest decision. With over 50 types of bullets and only three slots in your hold, strategy will be the key to victory!

BOAT-LOAD OF QUESTS!
With over 60 levels and 40 quests danger, treasure and fun lurk around every island in the world of Powder Monkeys!

Powder Monkeys combines RPG-style exploration with tower-defense like systems. The game features eye-patching graphics, a boat-load of quests and a cast of characters ready for action and adventure on the high seas.

Featuring 7 different GameCenter leader boards the competition will get fierce on the high seas of Powder Monkeys!

Over 80 hours of gameplay!!!
**********

Check out our other amazing games!! Cows vs. Aliens, Inspector Gadget, Drag Racer World, Ghostbusters™ Paranormal Blast, and Fashion Star Boutique!

**********

Visit Us! xmg.com
Like Us! facebook.com/xmgstudio
Follow Us! @xmgstudio
Watch Us! youtube.com/xmgstudio
Powder Monkeys 1.1 Update
* Ability to only collect only coins and bananas as the marauding bugs have captured all the wood and metal
* Reduced tutorial to get in the game quickly!
* Quicker battle engagements with enemies on the World Map.
* Squashed pesky bugs on quests to improve the overall experience
**********
Check out our other amazing games!! Cows vs. Aliens, Inspector Gadget, Drag Racer World, Ghostbusters™ Paranormal Blast, and Fashion Star Boutique!
**********
Visit Us! xmg.com
Like Us! facebook.com/xmgstudio
Follow Us! @xmgstudio
Watch Us! youtube.com/xmgstudio
More