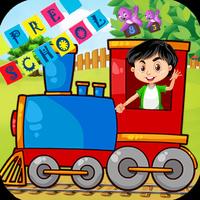 Preschool Baby Toys: Abby Math Learning Skills
Free Get
Screenshots for iPhone
More Screenshots for iPad
Preschool Baby Toys: Abby Math Learning Skills Description
Princess Games Studio Come With The Lattest Top Learning Games.
Preschool Toddler be ready for the most waited Learning game activities for the toddler kids.Here Princess games studio come with the brain learning activity
Shapes, colors, counting games, numbers, basic skills… With kids in preschool age (3, 4, 5 and 6 years old), primary school and kindergarten will learn with no effort while having fun.
Includes Large amount of basic kids games with interactive, helpful voice narrating, colorful graphics, and great sound effects to help your kids learn alphabets, spelling, numbers, colors, shapes including animals and fruits with HD flash cards
Preschool All-In-One learning games: Letters, Counting, Puzzles, Sizes, Shadows, Matching, Colors, Shapes, Differences, Patterns and more -- you are on the right address!
It suits perfectly to every age although it's specifically suggested for kindergarten, preschool and primary school (3-8 years).
Children will experience an exciting adventure, solving puzzle games with colors and geometric shapes, running, counting, learning, jumping and doing all the cute characters and all game modes.
Preschool baby games are fun educational games to improve child memory and offers free learning games for kids
Toddlers can practice the basics of ABCs (letters) and the Numbers (1-10) using this app (games). Educational games increases child skills & interest in learning new things using the phone or tablet in a fun way
Completely kid oriented; no complicating menus to navigate, bright colors, fun characters, and prizes make this app extremely easy to use and engaging for young children. The variety helps to keep my three-year-old engrossed

FEATURES :-

LETTERS
Tap on the word that starts with the letter that was pronounced! Great for teaching children to realize the connection of letters to words, understand the position of the first letter, and practise matching the names of letters to their symbolic notation!
COUNTING
Count the toys! Hearing the counting pronounced helps children to better remember the order of the numerals as well as get used to the counting procedure. Way to learn how to count!
SIZES
Trains understanding of the comparative nature of concepts of big, small and the same!
PUZZLES
Fix the broken toy! Enables your children to train fine motor skills and improve their logical thinking.
SHADOWS
Drag the object to its silhouette!
MATCHING
Match the toys! Serves to train children's memory and understanding of the concept of the sameness.
COLORS
Find the toy in a given color! Great both for children only beginning to learn and those who need additional practice.
SHAPES
Find the right shape! Teaches children recognition of names of common shapes (such as a square, rectangle, triangle and more).
PATTERNS
Gives children practice in the area of common patterns recognition.
SAME AND DIFFERENT
Tests the ability of comparing pictures and finding differences. Select the different toy among several others or find the same toy as the displayed one.

Learn to recognise geometric shapes: square, circle, rectangle, triangle, pentagon and rhombus.
- Learn to count numbers (1-10) with counting games for kids
- Enhance speed, attention and psychomotoricity with the color recognizing game: red, green, blue, yellow, etc.
- Learn first words, letters, consonants and vowels (literacy -abc-) in a fun manner in his native language (English).
- Start learning a foreign language (Spanish, French, Italian…) for kindergarten, preschool and primary school children (3-12 years old).
- Resolve educational puzzles about different geometric shapes and numbers: squares, circles, rectangles, triangles, trapeziums and rhombuses.
- Learn and enhance coordination and fine motor skill in youngsters.
- Develop visual perception of different shapes, numbers and objects in motion.
- Develop attention and concentration in kids in preschool age and elementary school.
Preschool Baby Toys: Abby Math Learning Skills 1.0.0 Update