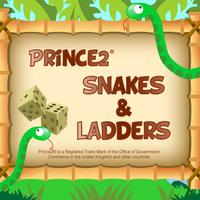 PRINCE2 Snakes & Ladders Game
$0.99
PRINCE2 Snakes & Ladders Game Description
Studying for your PRINCE2® Foundation exam? Test your PRINCE2 knowledge on the move and improve your chances of certification with this fun PRINCE2 revision game from ILX Group! NOW OPTIMISED FOR BOTH iPAD AND iPHONE.

Features:

• Game based PRINCE2 Foundation Exam Prep tool
• Multi-player or play against your device
• Choice of character selection and switchable sound effects
• Post your high-scores to Facebook
• In-App purchase of an additional question pack containing 75 exam questions

The ILX PRINCE2 Snakes & Ladders game is based on the traditional board game and provides you with the opportunity to test your Project Management knowledge in a fun and entertaining environment. This highly engaging exam simulator includes 75 Foundation level questions which are randomly selected as you progress through the game.

The game also includes multi-player functionality so you can either play against your device or three other devices via Bluetooth – perfect to pit yourself against friends and colleagues!

One of the most important aspects of learning PRINCE2 is to feel confident in the exam; this game provides a fun alternative to PRINCE2 Foundation exam practice and provides a valuable companion product for ILX's PRINCE2 e-learning and classroom learners.

Benefits:

• Improved knowledge retention through engaging game play
• Develop understanding of the structure and contents of the PRINCE2 manual
• Create a team play environment in your PRINCE2 workshops
• Increase knowledge of the method

PRINCE2 is a Registered Trade Mark of the Cabinet Office.
PRINCE2 Snakes & Ladders Game 1.2.2 Update
We've updated the app to include:
• the latest official PRINCE2 Foundation questions
• an updated in-app question pack
• iOS11 Compatibility fixes
More