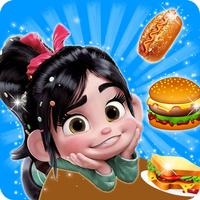 Princess Kitchen - Happy Super Chef
Not Available
Removed
from the App Store
Screenshots for iPhone
More Screenshots for iPad
Princess Kitchen - Happy Super Chef Description
Have Fun Princess Kitchen with Simple Controls!
+ With a chop chop, a bubble bubble, and a sizzle sizzle...
+ Anyone can enjoy the simple, intuitive touch controls of the dozens of varied minigames! Grab your apron and aim for the rank of ""Special Chef!

***Combine All Kinds of Recipes in cooking game!

What weird or wonderful cooking dash combinations can you make by combining two recipes? Get creative and mix your meals!

Why Princess Kitchen :

* 9 unique locations: Marketplace, Fast-Food, Chinese, Old Town, The Park, Tropico, Breakfast Café, The Fair, and Sushi cooking fever. More locations help you cooking master and Dash are on the way!
* So many different upgrades to buy and improve your restaurant.
* Top master chef characters for cooking fever
* More than 90 dishes to cook using 50 ingredients
* More than 100 levels to complete in cooking mama and Let's you cooking
* Hundreds and hundreds of upgrades for your kitchen appliances and interior

Cook delicious meals and desserts from all over the world in this FREE addictive time-management game!

With a choice of 8 unique locations, from Desserts and Fast Food to Oyster Bar and Oriental Restaurant, you will be able to practice your skills in a variety of settings and cooking techniques.

How to play Princess Kitchen :

The game brings a great challenge. Your goal is to earn a target amount of money in the given time in order to clear the level. Only have at Burger Fevel
+ Use the food maker, make delicious sandwich, hamburgers and other fast food items.
+Touch your screen to make food and drag it directly to serve your customers, collect your money after serving food.

If you enjoy with Cooking Dash 2016, Cooking Mama and Cooking Fever, This game you also have to play. It so FUN

Princess Kitchen will test your cooking speed and performance in the cafeteria. The objective is to make you a top master chef who can cook delicious fast food. You'll need to satisfy every customer, serve their food or drink orders in time. Otherwise, they could be annoying and impatient with your slow action and even leave the restaurant right away. Your revenue will be deducted if you'll burn or waste the food materials while cooking.