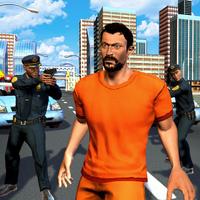 Prison Escape City Gangster
Not Available
Removed
from the App Store
Screenshots for iPhone
More Screenshots for iPad
Prison Escape City Gangster Description
Prison Escape City Gangster unravels the story of the famous and notorious gangster. Prison Escape City Gangster starts with the notorious gangster, who has been behind bars for crimes he did not commit, breaks out of prison to escape and get to a safe point to prove his innocence himself. Prison Escape City Gangster depicts beautifully the story of the gangster framed by his enemies and other criminal elements of the city for the crimes and illegal activities he has not committed. Prison Escape City Gangster tests the perseverance, combat skills, gun fighting skills as well as spy skills of the ex-gansgter who has now been branded as a culprit in crimes he did not do.
You are a gangster who has retired from the life of crime and have not been involved in any crime in the city for over a decade. You are living a quite and peaceful family life. Suddenly, your peaceful life takes a u-turn and you are arrested by police while on your way back to home from work. You are blamed for drug trafficking, extortion and other crimes that you have left over a decade ago but you have no way of proving your innocence while behind bars. You make a plan to escape the prison and escape out of the city in a helicopter to a safer place from where you can start connecting dots that will led to your innocence being proven in court.

Prison Escape City Gangster is an epic tale of perseverance and a test of courage for you. Prison Escape City Gangster offers many features such as

- Amazingly beautiful city
- Realistic Jail
- Attractive UI/UX
- Great game control
- Intuitive Gun Controls
- Packed with lots of action
- It's FREE!!

What are you waiting for, download and enjoy Prison Escape City Gangster!