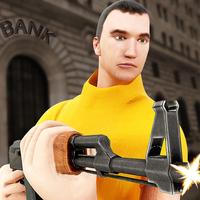 Prisoner Bank Robbery Heist Game - Alcatraz Escape
Free Get
Screenshots for iPhone
More Screenshots for iPad
Prisoner Bank Robbery Heist Game - Alcatraz Escape Description
In a mad city of crime, robbing a bank is the first job that comes to mind of a notorious prisoner. Prisoner Bank Robbery - Heist gives you the experience of pulling off a heist & bank escape in one day to become a getaway member of mafia gangsters. Notorious heist usually happen in this miami crime city. It's time for a bank robbery crime for the notorious prisoner as he is ready to rob a major bank. Be the crime driver, notoriously steer the car quickly and try to loot the bank. Notoriously take cashier as hostages and counter attack the police officer. Carefully disable the security alarm & make way inside the bank, shooting cashier & police guards with precision aiming. Do what needs to be after the prison escape mission and flee away skillfully. Don't let the hostile forces punish for criminal activities. Plan out the grand bank robbery as a prisoner while avoiding police arrest before taking out all the hardcore police officer guarding the bank & the cashier. Rob all the cash, shoot security alarm, steal gold, do jewel heist and steal other valuables & join the miami gangsters before cops reach the crime scene to make the police arrest. Complete the bank job in a hardcore prisoner style in this heist game. After spending a lot of hard time in jail, no one wants to be in there again with a police officer.


As a hostile burglar Take hostages in the action. Against a police crime chase like this one needs to execute the best plan in the big bank robbery that you can think of. This is the chance to act as a hardcore robber ready to take away everything. There are numerous hostile cops & police men on the miami streets trying to prevent any grand bank robbery. Take advantage of hostages and dodge the police duty cops in a clown robbery and don't end up in burglar jail again. Plan, attack & steal all that there is in the bank and leave no traces. Make getaway by notoriously escaping the city by grand theft of vehicles which are parked outside the bank. Being a member of a notorious mafia gang, attack or shooting with hostile weaponry any police forces standing in the way is the only choice to stop police arrest. You don't want to end up in prison because of this crime case. Escape the crime scene by dodging cops, robbing cashier & drive your car via escape route. Destroy security alarm & anything that is an obstacle to escape the police car chase. This crime affected city needs notoriously bad criminals & robbers to heist a bank professionally and avoiding any police arrest. This is a true cops vs robbers mission for a notorious city gangster in an hardcore clown robbery crime. Prisoner Bank Robbery - Heist will give you the ultimate experience of criminal police chase in the crime city in a crazy getaway like in shooting games & latest robbery games.


Prisoner Bank Robbery - Heist Key Features:

- Realistic 3D Bank Environment with hostage situation
- Extreme police officer shootout missions
- Intuitive & Fluid Game shooting controls
- Realistic hostile prisoner character
- Experience clown robbery, steal from cashier as a hardcore criminal!!
- Avoid any police arrest
- Exciting action in clown robbery crime levels
- destroy security alarm & Collect power ups & such as time extension, health & gun ammo
- Use stealth in notorious escape missions and take out police officer.
Prisoner Bank Robbery Heist Game - Alcatraz Escape 1.1 Update