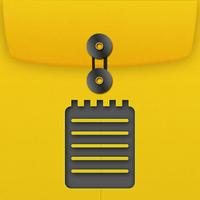 Private Notes+
$1.99
Private Notes+ Description
* Protect your passwords , IDs and private notes "
Quality App that helps you to keep your private notes , passwords or IDs secured and organized in stylish way with many beautiful themes that you can switch between anytime.

What if your iPhone is lost or stolen? What if someone Copied important IDs and Passwords? Are you worried that someone will grab your phone and go through your private things?

Private Notes+ keeps your private notes locked and organized.
Type down your private thoughts and ideas in Private Notes+ and view or edit them any time.

FEATURES:

- COLORFUL DESIGN
Protect your data in stylish & colorful folders that will keep your data organized and looking good.


- CHOOSE YOUR LOCK TYPE
Use pattern lock, PIN code or Private Notes+ cartoon pattern to lock all your private data.


- PROTECT YOUR PRIVATE DATA
Store passwords, accounts and ATM PINs safe inside Private Notes+.


- RETINA/HD INTERFACE
High quality beautiful and colorful interface makes viewing your private data inside Private Notes+ even more pleasurable.


EXTRA SECURITY FEATURES

•Configurable Auto-Lock.
•Escape/Lock screen.
•Secure iTunes access to Private files.
•Option to do Data or Factory reset.
•Intrusions report with photo-capture and date/time-stamp.
- Lock and Password retrieval
- Sound Level Control
- THEMES
beautiful themes to customize Private Notes+ look and feel!
Private Notes+ 1.5 Update
Minor Bug fixes
Support iOS 11
More