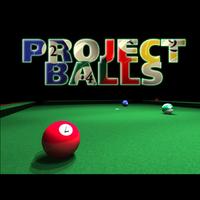 Project Balls
Free Get
Project Balls Description
The balls have a problem! Their planet is about to self destruct and they need help getting to their escape pod... ...and that has precious little to do with the game itself. Gotta love the marketing department.

Guide the balls to the exit in this simple (and more importantly - free with no "in-app" purchases) puzzle game.

Place an up arrow! Place a down arrow! What the heck... you can even place a left arrow too! Plus uncover the secret other direction so you don't end up with all of your balls on the left side of your screen.

Whole minutes of fun for the entire family! Then the game will have downloaded. Get back at people you don't like by recommending this game to them!

=========================================================

Critical acclaim for Project Balls:

- "I probably won't delete it."

- "The sound doesn't work and the aspect ratio is wrong."

- "Not the worst game that I have ever played."