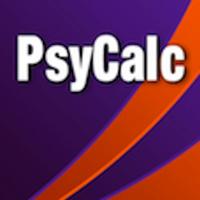 PsyCalc
$7.99
PsyCalc Description
PsyCalc®, the number one desktop psychrometric calculator for over 20 years, is now available for iPhone and iPad. Its intuitive interface, flexibility and wide operating range makes it the tool of choice for tens of thousands of professionals worldwide. The rigorous calculation engine driving PsyCalc® is recognized by many engineers as the gold standard.

PsyCalc® includes screens for finding properties of a point, mixing two air streams, finding process energies between two points and setting your screen defaults.

PsyCalc® operates in I-P (inch-pound or English) units or SI (System International or metric) units. Input and output values can be set to different units providing an easy means to make conversions.

PsyCalc® is immediate. Make a change to the inputs and the outputs are updated immediately. There is no calculate button, all values are always up-to-date and valid.

Numeric inputs are entered via a numeric keypad.

Air and Water Vapor Properties in PsyCalc®:
Psychrometric -
°Fdb / °Cdb - Dry Bulb Temperature
°Fwb / °Cwb - Wet Bulb Temperature
%RH - Relative Humidity
Btu/lb / kJ/kg - Enthalpy
°Fdp / °Cdp - Dew Point Temperature
gr/lb / g/kg - Humidity Ratio
ft≥/lb - m≥/kg - Specific Volume
in Hg VP / mm Hg VP - Vapor Pressure
lb/ft³ / kg/m³ - Density
PPMw - Parts Per Million by weight
PPMv - Parts Per Million by volume
gr/ft³ / g/m³ - Absolute Humidity

Pressure -
Alt in Ft / m - Altitude (elevation).
psia / kPa - Absolute Pressure.

PsyCalc® Limits -
The limit ranges for this software are:
Dry bulb Temperature: °F / °C
-80 to 1500 / -62.2 to 815.5
Dew Point Temperature: °F / °C
-80 to 200 / -62.2 to 93.3
Absolute Pressure: psia / kPa
0.7 to 400 13.8 to 2757

PsyCalc® is brought to you by Linric Company
"We do the world's psychrometric calculations!"

PsyCalc is a registered trademark of Linric Company.
PsyCalc 3.0 Update
Updated for latest iPhone screen sizes.
Compiled for 64 bit operation.
Updated selector.
More
More Information
Language:

Danish

Dutch

English

Finnish

French

German

Norwegian

Swedish

More