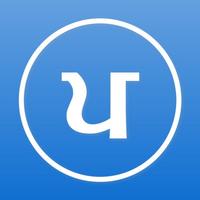 Punjabi Keyboard - Punjabi typing & more
Free Get
Punjabi Keyboard - Punjabi typing & more Description
--------------- WRITE PUNJABI ANY WHERE ANYTIME --------------

Finally 'Punjabi keyboard' for iOS is here. You can use this keyboard with any application to write in Punjabi language and even it works same as the iOS default keyboard. You will definitely love this.

Now, You don't have to write punjabi in other applications and copy paste where you want to use. You can directly write in punjabi in any application.

--------------- YOUR PHONE - YOUR KEYBOARD - YOUR THEME --------------

Now, you are free to choose any theme you like. Stay with default look of keyboard or make it colorful with your favourite color. Currently there are 16 different types of themes available in the application.

################################

How to use:

Open Settings
Go to General
Click on Keyboard
Click on Keyboards again
Choose Add New Keyboard
Then Choose 'Punjabi Keyboard'
Turn on "Allow Access" to use Themes

Now you are ready to use 'Punjabi Keyboard'. Just you need to tap on 'Globe' icon from any keyboard to switch to 'Punjabi Keyboard'.

################################

How to use Themes:

Please make sure that you have turned on "Full Access" for "Punjabi Board - Punjabi Board".
If NO, Please follow "How to use:" Steps Above.
If YES, Please open 'Punjabi Board" application and click on 'Themes' Button at top.
Click on apply button of any theme you like.
Thats All, You can click 'Preview' button to check how your keyboard looks like after applying theme.


################################
If you like this application, Please support this app by rating us on AppStore. This will encourage us to develop more softwares for Punjabi language.

Also write us for your feedback and suggestions to improve this.
################################
Punjabi Keyboard - Punjabi typing & more 2.3 Update
We are Celebrating 100k downloads this week so we are adding following major Improvements to keyboard as a return gift for your SUPPORT & LOVE:
▪ Typing is easy now with word suggestions and predictions
▪ Added TYPING suggestions.
▪ Added Next word predictions.
▪ You can use long press instead of 'HOR' button
▪ Added Khanda symbol
& more more more.
More