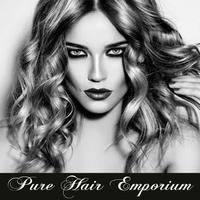 Pure Hair Emporium
Free Get
Pure Hair Emporium Description
Welcome to the Pure Hair Emporium App.

Today, Pure Hair Emporium is owned and operated by prominent local business woman Loretta Malfitana. She has been a Hairdresser for the past 26 years and prides herself on giving excellent service. Needless to say Loretta loves to cut hair and is passionate about delivering a style that will make your friends say "Wow!"

Loretta says it's all about relating to clients, making them feel relaxed and listening to their needs that makes Pure Hair Emporium the successful establishment it is today.


Along with this, there's a certain chemistry (pardon the pun) that goes into colouring one's hair. Loretta has that magic to extract personality and pizzazz in one's looks and may even bring out the demure or sophistication hidden under those locks of yours.

And to do that, you'll have a choice of cutting, colouring, styling, hair extensions and many other options for creating even up-dos and styles that can be worn every day.


Loretta proudly uses "J The Colour Professional Hair care & Styling" products. Supplements such as One On Tone, Sempermanent, Permanent & Hair Lightener add to the strong focus placed upon the salon's framework for customer satisfaction.

The Pure Hair Emporium Salon will make you feel special for those occasions such as weddings, anniversaries, christenings and even proms for teenagers. You know you're in good hands all the time at Loretta's with emphasis on even our little folk whose first experience can sometimes be daunting. As a mum, Loretta has all the soothing tones to make you child's first cut an experience he/she will enjoy.

Here (on this App) you can make a booking for any one of numerous services available and even leave your goss before the cat's let out of the bag.

To reward you for your patronage, Loretta has introduced a Digital Loyalty System so you won't have to carry those dreaded little cards (which we all lose and hate..ha ha). And along with the rewards come some fabulous products from Lady J that will simply put your face in heaven.

Don't forget …the coffee is on the house, the conversation is friendly and the service is superb. And "YES" fellas …we do talk Tigers here along with any other football fanatical things.

See you soon @ Pure Hair Emporium ……. make a booking today here!
Pure Hair Emporium 1.3 Update
We have changed the way links work, showing the navigation bar at the bottom of the app for a better looking (make-up material).
More