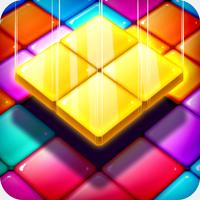 Puzzlegram!
Free Get
Screenshots for iPhone
More Screenshots for iPad
Puzzlegram! Description
Puzzlegram is a collection of block puzzle games. It is fun, easy to play, addicting and the ultimate block puzzle experience! Challenge your wits by arranging as many blocks as you can!

HOW TO PLAY
- Place puzzle blocks to fill vertical and horizontal lines.
- Filled lines get cleared from the board.
- Think you got the hang of it? There are block puzzle 3 additional modes to take the challenge to a whole new level!

FEATURES
* Game Save - quit and continue your block puzzle jewel game anytime from the last point you stopped.
* 4 Block Puzzle Mania Modes - Classic, Block Puzzle Plus, Time, Bomb
* 3 Boosters To Help You Play:
# Trash Bin - is the block puzzle classic plus helper. It will let you remove any of the pieces being served to you.
# Hammer - let's you clear a 3x3 area on the 1010 brick the block color field.
# Clover - or also known as the Irish lucky charm, is the ultimate block puzzle legend saver. It will substitute all the current puzzle block pieces and give you three 1-block pieces that will let you break off any dead ends.
* 3 Game field sizes: 88, 1010, 1212
* Second Chance - a unique option, on the Game Over screen you are provided with the opportunity to continue the same game only once more!

4 GAME MODES
I. Classic - Clear as many horizontal and vertical lines as you can!
II. Plus - More figures, more fun, same block puzzle classic legend rules!
III. Time - Challenge yourself, race against the time! Replenish the timer by completing wood block puzzle lines and see how long you can keep going.
IV. Bomb - Test your brains and see what it's like to have every move count. Fill lines to diffuse bombs. If a bomb's counter reaches zero, it will explode!

For each puzzle block jewel mode you can choose among the 8x8, 10x10, 12x12 grid sizes to play on. If you want to truly test yourself go for the smallest field on the block puzzlerama, and if you feel like going bonanza then pick the biggest one 2 for 2048.

Have fun, keep your brain trained by challenging yourself to the ultimate block puzzle legend mania - Blox! Puzzle.
More Information
In-App Purchases:

Remove Ads $1.99

More