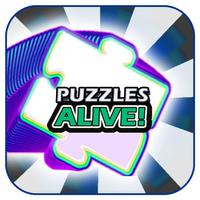 Puzzles Alive! By The Sea
$0.99
Puzzles Alive! By The Sea Description
Glorious jigsaw puzzles with a unique and magical twist!
When you complete a puzzle, they come alive!

9 Puzzles of beautiful images set by the sea. From under water creatures to waves crashing on beaches and fishing boats. Images taken from around the historic Navy port of Portsmouth England.
Designed for all the family and for people of all ages.

For the first time you are rewarded with an extra bonus for completing a puzzle.

Drag to zoom between the "box" and the "lid". The "box" is where you place the correct puzzle pieces and the "lid" is where you choose from the scattered pieces. Once you have chosen your piece, you can rotate it if need be to make it fit. Just like you would in reality!
You can choose from the simplest 4 piece puzzle to the more difficult and challenging puzzles. The final puzzles are designed to be very challenging indeed! Want to have a break while playing? Well, you can! They will be as you left them when you return.

When you complete a puzzle it magically comes alive!
A completely new and original type of jigsaw puzzle game for iPhone, iPod and iPad.
This app is free from any ads, requiring in-app purchases, add-ons or ask for any personal information.
Puzzles Alive! By The Sea 2.1 Update