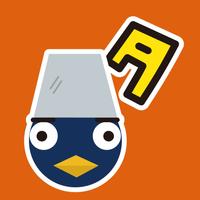 Pythagora Switch Songs 02
$2.99
Screenshots for iPhone
More Screenshots for iPad
Pythagora Switch Songs 02 Description
"Pythagora Switch" is one of the most popular educational TV program for children in Japan. The programs concept is to teach children the "Way of Thinking" and "Know-How" instead of knowledge. This app contains songs from the show, and each song includes a different "Way of Thinking". In the app, there is also explanations of the concept of the songs. And as a special content for iOS, the app includes "DIY Fathers Switch", which children can make their own "Fathers Switch" movie shown on TV by filming their dad with the camera of iPhone/iPad.
Japanese Version Only.

あの『ピタゴラスイッチ』の歌のコーナーが、楽しいアプリになりました!
「ぼくのおとうさん」や「ビーバーのダム」といった大人気の歌と映像が、iPhoneやiPadでいつでも楽しめます。「これを見せると子供がおとなしくしてくれる」とお母さん方にも好評です! これでもう、お出かけ先でピタゴラの歌がふいに見たくなった時でも、だいじょうぶ! さらに、アプリならではのスペシャルコンテンツ「つくる おとうさんスイッチ」も収録した、もりだくさんなアプリです。

◎『ピタゴラうたのアプリ タのまき』収録されている歌

・ぼくのおとうさん
・ぴきひきびきの歌
・ビーバーのうた
・ビーバーミニ解説①②③

◎「考え方」の解説付き!
ピタゴラスイッチは、「考え方」を育てる番組です。ピタゴラの歌にも、それぞれある「考え方」がひそんでいます。
「なるほど!」だけど「たのしい!」ピタゴラの歌の真髄がわかります。

◎スペシャルコンテンツ「つくる・おとうさんスイッチ」あ行

「ピタゴラスイッチ」の大人気コーナーのひとつ「おとうさんスイッチ」。
おうちでお子さんと一緒に楽しんだお父さんも多いこのコーナーを、iphoneやipadで楽しむことができます。
子どもが監督となって「あ・い・う・え・お」の動作をするおとうさんを撮影します。
5つの動作の撮影が完了すると、テレビと同じ「おとうさんスイッチ」の音楽とナレーションがついて、
ご家庭オリジナルの「おとうさんスイッチ」が完成します!

◎お問い合わせ先
appsupport@euphrates.co.jp

[JASRAC 許諾番号]
9015684001Y43136,9015684002Y38026
ユーフラテス有限会社
EUPHRATES Ltd.
Pythagora Switch Songs 02 1.0.10 Update
minor bug fix(1.0.10)
More