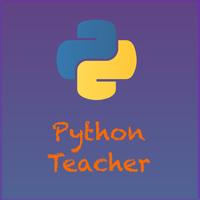 Python Teacher - 1000+ Video Tutorials
$2.99
Python Teacher - 1000+ Video Tutorials Description
- Unlimited Free Access to all your favorite Python Programming Tutorial any time anywhere. Huge Collection of Tutorial Series to make yourself confident enough to be a Pro Python Programmer. Learn Python in the most social and fun way with us.

- Latest & New lectures will be updated automatically.

- The Python Course covers the following topics:
• Python Basics
• Data Types
• Control Structures
• Functions and Modules
• Exceptions
• Working with Files
• Functional Programming
• Object-Oriented Programming
• Regular Expressions
• ...and even more!

So don't wait; Enjoy this App and have fun with Python


Disclaimer: This streaming app is an organized way to access Tutorials.We do not upload any videos to or not showing any modified content. This app doesn't claim ownership of any content accessed through this app. The content is owned by respective copyright holders. This application complies with Copyright law guidelines, Public Domain Content Policies, User Generated Content Policy and comply streaming app policy. If you feel there is a direct copyright or trademark violation that doesn't follow within the guidelines, please contact us directly. In case you find your video being linked/accessed through this app, please email for instant removal.
Python Teacher - 1000+ Video Tutorials 1.0 Update