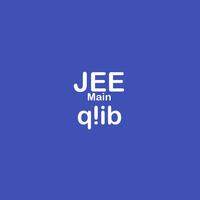 qlib JEE-Main Exam Papers
Free Get
qlib JEE-Main Exam Papers Description
qlib JEE-Main application allows the students to prepare for the Joint Entrance Exams(Main) by attempting free mockup tests for JEE-Main using previous year question papers for JEE-Main Examinations.

Students can also learn the solutions in the "Tutor Mode" where the student will be able to study the answer of each and ever question from the previous year questions of JEE-Main exams.

The student, if required, will also be able to download the PDF versions of the previous year papers for JEE-Main exams to print and use it offline.

qlib JEE-Main has question papers and solutions for the all the exams from the year 2015 till today and will be updated as and when the new exam happens.

The qlib JEE-Main application is free and student can appear for online Mock JEE-Main tests using the previous year papers and hence prepare.
This app has "Solutions" too.
So that is why i am interested. Also if you see in their menu, they have lots of other exams covered too. So if we can crack this one, then hopefully we will be able to crack them all.
qlib JEE-Main Exam Papers 1.0.0 Update