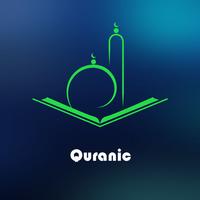 Quranic
Free Get
Quranic Description
First Muslim social networking app

*Polls and status updates.
*Quora style question and answer function
*Quran in Arabic and over 100 different translations.
*Bookmark verses by liking them and comment on verses to get help on understanding from other users.
*Discuss traditions and practices
*Chat with other Muslims
*Take Quizzes and test your knowledge of the Quran and Islam.
*Create posts about particular subjects or edit existing posts and add more information.

Quran app for Muslims who want to understand the true message of the Quran by comparing translations, discussing traditions and Islamic history.
Too often are we told that only certain people; scholars, mullahs and imaams, can be experts in the message in the Quran. I believe the Quran belongs to all of us so we should all be experts in the Quran. This can be achieved by putting our heads together and discussing what God is telling us.

Learn about the roots of Salah, Namaz, Halal, Haram, Hajj, Zakat, Soum and other traditions.