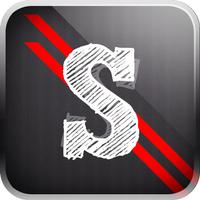 Qvik Sketch
Free Get
Qvik Sketch Description
*** Check out the new iPad native Qvik Sketch Pro! ***

Qvik Sketch is one those cool things that you just plain need on your iPhone. Draw sweet looking sketches quickly regardless of your drawing skills. Qvik Sketch makes bad looking pictures look good, and great looking drawings look awesome. Try it, draw it, share it.

Qvik Sketch features technology that will make the simplest of doodles look like nicely sketched or inked images. Select your color and brush of choice and express yourself. Then share your fabulous creations with your Facebook friends or save them on the device. Quick, easy, effortless - the way all apps should be.

Protip:

#1 Switch between brushes to reset shading. You can achieve highly detailed images this way!

#2 Start with slow and steady strokes before you get the hang of it!

Qvik Sketch uses code from the Harmony project by MR. DOOB

Note: Qvik Sketch does NOT currently work on the iPad. We are looking into the problem. Meanwhile, please have a look at Qvik Sketch Pro, which is designed specifically for the iPad.
Qvik Sketch 1.11 Update
- Now works with iOS4.
- Fast app switching coming soon
More