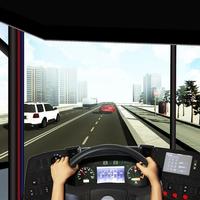 Racing In Bus - Traffic Racer
Free Get
Screenshots for iPhone
More Screenshots for iPad
Racing In Bus - Traffic Racer Description
Racing In Bus - Traffic Racer:


Racing In Bus is new exciting game for all fans of Bus Racing Games! Have you ever dreamed to be a engine driver of bus? I bet it was the biggest dream of your childhood! Are you looking for a game which will take you ahead with the advanced bus simulator? To be the most successful bus driver, you need to follow the instructions & control the bus closely. If you accept this as a challenge, you need to clear all the levels successfully before you call yourself a real bus driver .
Have you ever seen how the 3d Racing In Bus. How bus driver controls the bus.
Have you ever wish to be a racer of Bus. How the huge Diesel engine works for the buses. how the killing machines run.
Here is the game for you where you will drive Worlds fastest Bus ever. Manage the speed of bus with real handles. Avoid the crash with other fast traffic by changing the tracks.Make stunts and close calls with traffic and make points and increase your reputation. the best bus ever in mobile. platform to platform and city to city and station to station run. travel around the world. see the real car stops and its locomotives. face real bus signals and gates.
How To Play: Become a real engine driver in new bus ! Drive your own bus and reach your destination. Enjoy the ride and have a good time! Get into the highly sophisticated bus and fulfill your dream of being a bus driver salvation. Control the bus through different terminals, picking and dropping passengers carefully. This will be equally a fun task for kids as well as for grownups who like to become a bus driver. You can also carry cargo if required; enjoy your journey with latest 3d graphics. You have multiple choices of 3D virtual bus. You can change the view mode according to suitable angles. Have fun with this trilling the tasks are not easy and you have to show your skills to be a top bus driver, you have to clear all your preliminary tasks and race against the given time frame, race through the deserted suburban tracks and reach your railway station, you have to be more careful and don't go fast else you'll be ending up overshooting the railway station. Dodge oncoming buses and do not cross the bus speed limit. You can EARN XP and level up to be the skillful bus driver of them all. Pick the speed, apply brakes and drive past beautiful sceneries as you go round the map picking up passengers fulfilling your bus transport duty. Explore the vast collection from the old steam locomotive simulator to today's high speed rails with tons of exciting engine driver adventures for you to enjoy.

Features of this game

=> 3D world
=> Free app for kids and adults
=> 3D Environment with multiple stations
=> Great dynamic Game play

Your Feedbacks and ratings are valuable for us to keep ourselves busy in creating more fun in the games to entertain you, your family and your friends. In case if you find any bug that needed to be addressed just send us an email, we will improve it and reply to your email as soon as possible.
Racing In Bus - Traffic Racer 1.0 Update