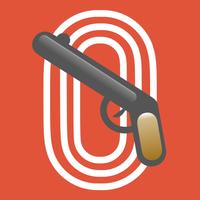 ReactionTrainer
Free Get
Screenshots for iPhone
More Screenshots for iPad
ReactionTrainer Description
Train your reflexes for faster race starts. Here is how it works :
Push the start button. Then, every 5 seconds
- The app says 'Ready'
- Between 1.5 and 2.5 seconds later (random), your hear a shot
- Tap the screen to simulate a start as fast as you can.
This sequence repeats itself until you push 'Stop'.
Reaction times are stored for later analysis. The free version gives you 5 attempts before issuing a request to buy - just enough to know how it works. Unlocking is available as an in-app purchase. You can force-quit te app to get another 5 attempts, but past attempts will no longer show in the history table and graph. They are kept on file though for when one should choose to buy later.

More features
- Turn sound on or off.
- Turn visual clues on or off (orange dot when 'Ready', green dot when shot sounds)
- On iPhone 6s or later, you can use 3D touch so you can leave your finger on the screen. When the start is given, just push harder.
- Reaction times of less than .01 seconds are considered false starts.
- No publicity.
ReactionTrainer 1.8.0 Update
We wanted to take ReActor out on the track - to record our real-world starts. So we added
- On your marks call + some configurable time to step into the blocks
- Movement detection. Attach your phone to your arm and it will register your start as soon as you move.
- Acceleration (10 measurements per second during 0.6, seconds, starting at -0.1 seconds before the actual start) is registered for later analysis and can be exported as a csv file. (semi-colon separated numbers from x-y-z user acceleration plus yaw, roll and pitch angles)
Any movement 0.5 seconds before or 0.1 seconds after the pistol shoots will be considered a false start.
ReActor does no longer support screen rotation to avoid rotating the interface when you swing your arms while leaving the blocks.
Some settings can now be toggled on/of by tapping the icon on the main screen.
The graph can be zoomed in/scrolled.
More