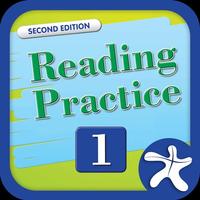 Reading Practice 2nd 1
Free Get
Screenshots for iPhone
More Screenshots for iPad
Reading Practice 2nd 1 Description
Class Booster

복잡하고 지루한 온라인 영어 학습은 이제 그만!
학생들은 재밌게 모바일로 학습하고, 선생님은 간편하게 이메일로 학습결과를 확인 하세요!

1. PC 뿐 아니라 모바일 기기에서도 사용 가능
교재에 포함된 Hybrid CD를 이용해 PC에 설치하고, 학생의 스마트폰이나 테블릿 PC에도 무료앱을 설치해 언제 어디서나 학습이 가능합니다.

2. 영어 학습을 즐겁게 하는 게임화된 액티비티
학습 동기를 유발 시키도록 재미있게 설계된 다양한 액티비티들을 하다 보면 포인트가 쌓이고, 포인트가 쌓이면서 내 캐릭터와 영어 실력이 동시에 성장하게 됩니다.

3. 복잡한 LMS없이 선생님 이메일 주소만 있으면 학생 학습 확인 가능
학생 등록, 반 배정, 학습 할당 등의 복잡한 절차 없이, 학생들은 앱 설치 후 학습만 하면 됩니다. 지정된 선생님 이메일로 학습 결과가 전송 되면, 선생님은 로그인만 하면 바로 학습 결과를 확인 하실 수 있습니다.

Reading Practice 2/e 1

리딩 지문, 액티비티, 문법 포인트, 어휘의 수준을 조절함으로써 해당 레벨의 학생들이 효율적으로 공부할 수 있도록 기획되었다. 구판보다 다양하고 세련된 시각 자료를 사용하였고, 최신 트렌트를 반영한 지문을 일부 추가함으로써 학생들의 흥미를 유발하도록 하였다. 지문의 주제는 대부분 학생들이 일상에서 접할 수 있는 다양한 이슈들로 구성하였다.

It is carefully constructed to provide a comprehensive set of reading passages and exercises, with grammar and vocabulary set at a low level.
The series presents a wide range of topics chosen to improve students' knowledge of important subjects. In addition, each book includes a variety of forms that students are likely to encounter in their daily lives.
Reading Practice 2nd 1 2.0.1 Update
My page(학습이력) TEXT 오류 수정.
More
More Information
Language:

Chinese

Czech

Dutch

English

French

German

Italian

Japanese

Korean

Polish

Portuguese

Russian

Spanish

Swedish

Turkish

More