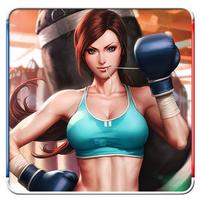 Real 3D Women Boxing Pro
Not Available
Removed
from the App Store
Screenshots for iPhone
More Screenshots for iPad
Real 3D Women Boxing Pro Description
Real 3D Women Boxing Pro is best women boxing game in app store. Real 3D Women Boxing Pro is very challenging game for boxing lovers. Women are not weak, if you love to fight and strong enough to punch face of real enemies, you are going to love this exciting and addictive game. Real 3D Women Boxing Pro has perfectly tuned and balanced boxer physics. Real 3D Women Boxing is complete game of women boxing with variety of punches and combo.

Game Features:
- Best graphics great crowd great music.
- Real 3D Women Boxing Pro consist of 10 boxers from different countries.
- Great Graphics great controls great levels and highly addictive game.
- Real 3D Women Boxing consists of 3 rounds, each round is of 60 Seconds.

Countries in "Real 3D Women Boxing" are :

1 - United States Of America.
2 - United Kingdom.
3 - China
4 - Philippines
5 - Kazakhstan
6 - Canada
7 - Russia
8 - Netherlands
9 - Japan
10 - India

How to Play:

Select your Country Boxer and your Opponent Boxer. Select gaming mode i.e. Easy, Medium and Hard.
Swipe on screen. Right Swipe will allow you to use left punch. Left swipe will allow you to use right punch. Upper swipe will emit an uppercut and down swipe will work as defensing cover.

- Make sure your green stamina line full 100%
- Red bar indicates life line of boxer.

Winning criteria / Success:

- Try to keep your stamina line (green line) at 100% to through effective punches at your opponent's face.
- Knock out the opponent boxer and win the fight or Punch maximum time at opponent's face to get good points to win the game.