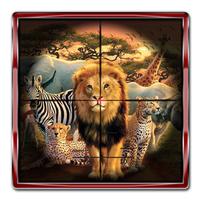 Real Animal Hunting Season: Ultimate Sniper Hunter
Not Available
Removed
from the App Store
Screenshots for iPhone
More Screenshots for iPad
Real Animal Hunting Season: Ultimate Sniper Hunter Description
Craving for thrill and adventure is a natural thing, do you want to complete another dream of thrill by entering the jungle life, there are many animals in this game, friendly, dangerous, different species and in there you might have already seen some in zoo and wildlife animal parks, but this time, they are not caged, they are free, roaming around you with their jaws and paws ready to attack any stranger in their territory anytime. Stay safe, become a fearless hunter of the day, own your title of best adventure hunter 2017, exclusively in this Real Animal Hunting Season: Ultimate Sniper Hunter game. You have been given a heavy machine gun and an AK-47, with endless lots of bullets to shoot, load as soon as the first burst is finished. Open fire on the deadly beasty creatures, save your life, first priority in playing such hunting and shooting games should be your personal safety. Wear long boots, have a hunter's cap on head and go all covered. No need to be afraid of anything if you have the courage t overtake anything challenging in this hunting animal game.

This is the season of prey and hunt, animals are roaming around, each of them are dependent on each other, either they are hunting or getting hunt themselves, you have to break this pyramid of their lifecycle and enter into the complete package of thrill and adventure in Real Animal Hunting Season: Ultimate Sniper Hunter. Unlike safari parks, you are not on any car, train or any safety vehicle, but this time its you or the beasty furious creatures like lion, cheetah, elephants, leopards, beers etc. They are also free as you are, they can be anywhere around you and can pounce at once towards you, if you tried to enter their habitat so close to their dens or homes. Look around, hunt them, shoot them down, kill like an commando kills the enemy soldiers in a battlefield ground. Chance is in your hand, avail it in time, load guns, target, aim and shoot, there goes the furiously fast running forest king.

Hunting is a passion for some people, if you also love to play shooting, striking and killing games full of thrill, fear, courage and bravery, then this is the perfect package of game for you. Animals feel jungle as their home; you have entered the den of a lion to prove your courage. Increase your speed, make it fast, and don't get hurt, quick response can save your life from any damage. Multiple intuitive and addictive levels will make you feel the realistic and ultimate fun of hunting, if you have never played any hunting game before, then you have made a big mistake because Real Animal Hunting Season: Ultimate Sniper Hunter is going to be the best hunting and safari shooting game of 2017. Get in the ground now!

Real Animal Hunting Season: Ultimate Sniper Hunter has following breathtaking features in it:

• Realistic Hunting Environments
• Multiple camera view
• Stunning and beautiful graphics
• Game play is simple entertaining and unique
• Efficient gun and aim control
• Endless fantastic hunting gameplay
• High fidelity cool graphics with realistic sound effects of shooting and hunting
• Multiple challenging levels
• Free to play and install
• Real sniper physics for animal hunter people

If you are a hunting lover, then you should give this game a chance, the addictive gameplay will make you play this game as your favorite pack of game? Animals are ready for their prey; are you ready to hunt them? Get in the field now!
Real Animal Hunting Season: Ultimate Sniper Hunter 1.0 Update