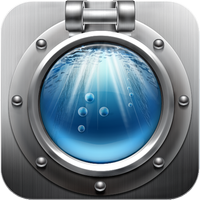 Real Aquarium HD Free
Free Get
Real Aquarium HD Free Description
Real Aquarium HD for Mac is quite possibly the most beautiful application available for the Mac platform. It's like having Discovery's "Planet Earth" right in front of you presented in a fun and interactive manner.

* Download the PRO version which includes 4 times the video footage, and over 16 built in music choices, as well as the built in encyclopedia!
http://itunes.apple.com/us/app/real-aquarium-hd/id431521899?mt=12
Real Aquarium HD FREE includes:

- Absolutely breathtaking High Definition footage of underwater life
- The built in interactive encyclopedia called "Animal Info" which allows you to learn about what you are viewing
- Built in music with options to choose from your iTunes library with a beautiful cover flow interface.

- A super easy way to change what you are viewing
- A gorgeous "animal info" full screen mode which allows you to step away from your "aquarium" and learn about the species you were just watching

**This is the type of app that is great to use when you want to just sit back and relax, or if you wish to learn about some new underwater life, you can delve into it and learn something new.


This app is brand new, but it has been polished VERY nicely. More footage will be continously coming in based on your suggestions. Please email them to realaquariumhdmac@gmail.com

Look out for our iPad version which will be out in the coming weeks!
Real Aquarium HD Free 1.1 Update
- Bug Fixes
- Improvement in overall performance
★ ☆ Upgrade to the Pro version of Real Aquarium HD to get 4 times the amount of breathtaking video footage, as well as an in-app encyclopedia, and over 15 built in choices...all without any limitations or ads! ☆★
More