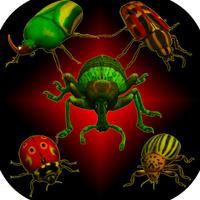 Real Bugs: Beetle Smasher 3D
Free Get
Real Bugs: Beetle Smasher 3D Description
Tap the real insects, send lightning to beetles, relieving the stress. This is an arcade game as hobby weekend project by Natural Action Games.
* Dozens of different insects, bugs and beetle more than 32, ladybug, firefly, wasp, flies.
* Flying bugs, bees, flies, mosquitoes.
* Real bug smasher game for lovers of ant smasher games.
* Super addictive scoring system.
* Great sounds, amazing lightning effect and lighting.
* Lite, simple, easy game playability.
* Best reflex experience, time killer, relax time.
* Insect species: prosopocoilus bison,batocera wallacei,cetonia aurat,batocera rubus,chiasognathus granti, cyclommatus, dorysthenes walkeri,dynastes granti,eudicella gralli,cyclommatus elaphus, eupholus linnei,eyed ladybird, golofa claviger,golofa porteri,homoderus melly,lytta vesicatoria,proculus goryi,prosopocoilus zebra,scarlet lily,dynastes hercules,staga etc...

Tips:
For high score, series and consecutive hits.
Creatures will gradually accelerate during the play.
Real Bugs: Beetle Smasher 3D 1.0 Update