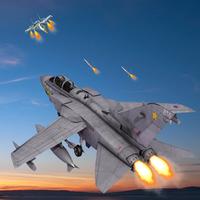 Real Jet Air Fighter 2017
Free Get
Real Jet Air Fighter 2017 Description
Real Jet Air Fighter 2017 is the best airplane flying game that brings you in the intense air-to-air plane battle, how long can you survive and fight against the enemy fighter jet? In this air force fighter mission 3d you have to fly and fight against the enemies to get the highest score, take out as many fighter jets as you can to increase your score and even unlock more air force fighter missions to fly. In this air force fighter jet game-s, you have to play as the air force commando and destroy the enemy air crafts, beat the high scores and be the best fighter pilot. Get yourself ready to be in an intense air jet fighting game-s with oncoming enemy air planes.
The Best Flight simulator just got better. Now join air force to destroy enemies in close ranged combats.
Destroy ground and air targets.
With new and better controls, now fly fighter jets and get the feel of real fighter pilot.
Good luck on your mission. Make your army proud.
Real Jet Air Fighter 2017 1.1 Update