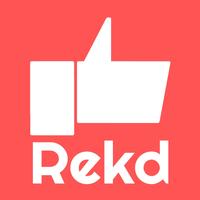 Rekd Movies, TV & Anime
Free Get
Rekd Movies, TV & Anime Description
Tired of bouncing between a million apps just to indulge your inner movie freak? Do you keep forgetting the shows your friends keep recommending to you? Can't find people to talk over talk the latest episode of your favorite show over with? You Otakus need more of your anime fix? The Rekd app is your one stop shop for all things movies, tv, and anime related. Rekd lets you connect with and see what people around the world think about the latest greatest content!

Need a recommendation for something new to watch? Our systems get to know your tastes and give you the best content recommendations, period. Perfect if your favorite show is on its last season. ;)

Combine that with the recommendations you get from your friends and you'll never again have to watch anything for an hour before realizing it just wasn't your thing!

Change how you share you opinions with your friends and post a Rekd React, instead! Fun pictures with stickers and to best express your excitement as you walk into the theater for the next big hit!

The more you post, the higher your rep score gets, getting you ever closer to being the most trusted and followed critic out there.

Chat, create cliques, share lists of your favorite movies and so much more!! What are you waiting for? Get Rekd and never experience movies the same way ever again.

Features:
- Watch trailers
- Have conversations with people all over the world
- Post reactions to "OMG" moments
- Create lists of your favorite content to share with friends
- Send recommendations to friends and save the ones they send to you
- See your friends' favorite movies
- Get content recommendations
- Create super exclusive cliques and get group movie recommendations
- Chat with friends and people with similar tastes as you
... etc, etc etc.

Sign up for the social platform for movies, tv, and anime now.

Get Rekd.
Rekd Movies, TV & Anime 7.4.0 Update
Movie Fact: The terrifying noises that the raptors in Jurassic Park made came from recordings of tortoises mating!
What's new with your favorite app?
- Search for you favorite anime quicker
- Enter contests to win prizes with Rekd
More