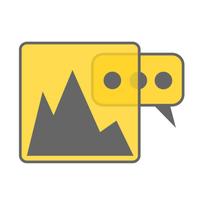 REO
Not Available
Removed
from the App Store
REO Description
REO allows you to hide your texting!

Compose your messages in plain sight at work, school, in a meeting or in front of your parents, but make it look like you are doing other things like searching the internet, setting a reminder, entering a username and password, using a business app, or setting an appointment in your calendar. Using REO you can make it appear you are doing anything but texting!

After you have typed your message, when the coast is clear, tap tap and your message is sent and you are back to looking like you are doing anything but texting. The first tap instantly shows the standard iOS messaging interface, then you quickly tap the send button and the iOS messaging interface is dismissed instantly before anyone can even tell what you did.

How do you use REO to make it look like you are using other apps? Simply take a screen shot of any other app in any orientation and then import it into REO. (For best results, make sure the keyboard is not showing when you take the screenshots) You then simply drag a text view to the appropriate location in the screenshot to make the text show where it would show in the other app.

Each profile remembers the screen shot you set, the position of the text window, the size and color of the text, if the status bar shows on top of your screen shot, and the last contact used. Landscape and Portrait functionality supported. Mimic one app in portrait and another app in landscape.

Each profile can be associated with a different contact. Import your contacts info from the contacts app or manually enter them yourself. Add multiple names and numbers to a contact for multi-person conversations. Create unlimited profiles and contacts.

You can tap the invisible send button at any time to view what's being said in the conversation, so there's no need to switch to the native messaging app. Tap the cancel to go back to REO to compose your message under cover.
REO 16.11 Update
Increased stability and bug fixes
More