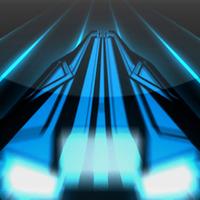 Return Zero VR
Not Available
Removed
from the App Store
Return Zero VR Description
Return Zero VR is a­ beautiful,­ psychedelic,­ ultrafast VR tunnel racer. If racing past mad-fast, frantic mazes set out in virtual, TRON like worlds is your thing, then Return Zero VR is definitely the game for you.

Featuring real-time procedural tracks, you can see the virtual world take shape before your eyes! Take on challenging corners, tricky slopes or endless climbs!

Collect blue gates to gain speed while avoiding the red and yellow ones. Overcome the speed of light and experience time running backwards!

Immerse yourself on the world of Return Zero VR. Do you have what it takes to turn back time?

Requires a Google Cardboard viewer to play.

Use your gaze to control the ship, no controllers required!

This game works better on Cardboard-compatible devices, with screensize of 5" and over.

Game not compatible with tablets.
Return Zero VR 1.1 Update
+Procedural Tracks! : Bored of the same old tracks? Not anymore! With these tracks, we added that extra something that makes you jump around all over again :)
+Turns, Climbs and Slopes! : Because racing on a straight line is not as cool as being twisted and turned all over the place! Still a confortable VR experience (please let us know if otherwise) and now more thrilling than ever!
+Bug-squashing! : Annoyed by that dastardly bug? Annoyance be gone!
More