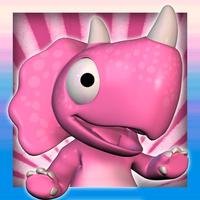 Rocks In My Socks: Augmented Reality Activities
Free Get
Rocks In My Socks: Augmented Reality Activities Description
This free App is compatible with iPad3+ and works with 2 sets of Augmented Reality gaming activities: 1) FREE Rock Launcher game 2) Story Time with Gracie and 8 activities found in the Rocks In My Socks Book

IMPORTANT NOTE: MAKE SURE YOUR DEVICE IS NOT MUTED AND THE VOLUME IS TURNED UP.
WHAT'S NEW? A Lot!
• The Rocks In My Socks book is updated and ready for you! Just check out www.RocksInMySocksBook.com
• Addition of 3D animated Story Time with Gracie. Focus your device at the Book's cover and Gracie will read the story to you.
• Update to all Game Graphics and interfaces
• Updated music and sound fx
• Functionality optimization to all games
• iOS 9.1 update

FREE GAME: ROCK LAUNCHER
You and your wee-one will have a 'blast', literally, as you try to launch silly sized rocks into the pink and white striped socks!

To play the ROCK LAUNCHER game, you will need to download and install this App, then visit www.RocksInMySocksBooks.com/RockLauncher to DOWNLOAD AND PRINT the Augmented Reality Rock Launcher game image target. Once it is printed, point your compatible device's camera at the image…and..GET READY FOR THE FUN TO BEGIN!

ROCKS IN MY SOCKS BOOK: 9 AUGMENTED REALITY ACTIVITIES

*IMPORTANT NOTE:
To experience the 9 Rocks In My Socks Augmented Reality experiences, you will need the Rocks In My Socks book. The book is not included in this App. To purchase and find out more about the book, please visit: www.RocksInMySocksBook.com

Bring story time to life with one of the first interactive Augmented Reality enhanced story and activity books, targeted at children from 4 to 7 years old, but fun for kids of all ages.
Built with groundbreaking technology and bursting with stimulating activities, this unique book combines an endearing story and characters with 9 Augmented Reality interactive experiences to further engage and excite young readers…It's a book like nothing you have experienced before
AUGMENTED REALITY ACTIVITIES INCLUDE:
1) Story Time With Gracie - Use the Book Cover to launch Gracie reading the story to you in full 3D animation.
2) Kia's Dino Shadow Matching Game
3) Emilio's Silly Riddle Game
4) Gracie's Dance-Time Jamboree
5) Kia's Silly Sock Matching Game
6) HighTower's Music & Color
7) Emilio's Favorite Sports Matching Game
8) Kia's Favorite Thing's Shadow Matching
9) Gracie's Colorful Hat Matching Game

THIS APP'S MANY FEATURES INCLUDE:
-Read the book with your child or have Gracie read it to you
-Lively interactive games that responds to your child's touch
-Hand to eye coordination challenges
-Color recognition and matching games
-Shadow and object association and matching
-Music and color association with a 3D keyboard to play your favorite songs
-Get a bit of exercise with the 3D animated Gracie showing her favorite dance moves
-More AR fun can be found at RocksInMySocksBook.com/Fun


*If you own an iPad 3+/Mini 2nd Generation, you will also need to download this FREE iPad App on the individual device.
Rocks In My Socks: Augmented Reality Activities 3.1 Update
- Optimization for iOS 9.1
- Additional bug fixes and game optimization
More