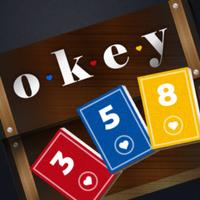 Rummy Offline
Free Get
Rummy Offline Description
Turkey's traditional popular games okey advanced HD graphics, simple gameplay and advanced competitors with you.

The game has been developed to play anywhere. You can play wherever you want so that you don't notice the Internet.

In the game, your opponents have been developed and developed so that you can compete more. Competitors do not know which stones are in your hands, so you can enjoy the real okey game.

There are 2 different games in the game.

Decrypting: This game is known to everyone in the classic okey table everyone you specify the game mode (11-21-31-41-51) starting to finish the highest number.

If you complete the 1st place you will win the gold prize on the table.

Bet: After specifying how many games you want to play in this game mode, there are different tables and prizes and bets in the game. You enter the table where you have enough gold and you win the betting prize when you are 1st.

In the game you can see the number of other players from the leadership table. As you play in the game, your experience scores determine your ranking among your competitors.

The game continues to be developed in line with your expectations and wishes. Please specify your requests to poyyeemobile@gmail.com.