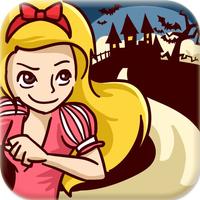 Run!Alice- A Fantasy 0-5k Run Traning Game
Not Available
Removed
from the App Store
Run!Alice- A Fantasy 0-5k Run Traning Game Description
This is a phenomenon product which you have never met before!

''One Night, princess Alice is playing in the garden of the castle. Suddenly, a cyclone comes and raises Alice up higher and higher
Help !
Help !!
Help !!!
Alice cries loudly for help, but there is nobody around…
After a long time, Alice finds herself in an unmanned valley and her jewelry is lost.
She is very scared, suddenly, a green light appears…..''
What will happen to Alice? Who will Alice meet?A fantastic journey is waiting for you to explore
A fantastic story?yes, of course!
A awesome game?yes, absolutely!
Besides, it is also a professional 5k training plan!

Tie your shoes, put on your headphones, you will become Alice. And the rest of thing is to follow the app's directions.
In 9 weeks,3 times per week, you will cross 9 fantastic places and escape from different evil monster to complete the target----'Back Castle'.
you will be in a beautiful and magic world ,meet different monsters, fulfill different awesome achievements and enjoy lots of risky experience.
And one more important thing is: When you are experiencing this story, you will be surprised to find that you are doing better and better at 5k running !

About the 9 stages:
#1.Silent Valley: A quiet and desolate place, some dangerous creature live there, let's start!
#2 Cherryville: A beautiful town, and what will happen?
#3 Wolf Canyon: The wolf here is coming! Run!!
#4 Hurricane Isle : Hurricane, the nasty hurricane!
#5 Stonecold Mountain : Standing on the top the mountain, you can see your home.
#6 Abandoned castle: WOW~Castle! But not mine, who lives here?
#7Emerald Shores: After crossing the sea, it's almost home!
#8:War Wilderness: Wilderness,Wilderness~burning the soul,Wilderness,Wilderness burning the soul.
#9 Moon Forest: Home is here, run!!

Our key features
----A designed 5k training plan which developed by Sports experts, it can help you enjoy running and be good at it:)
----Awesome designed UI and Audio make you feel you were really there at the moment.
----Each stage contains different fantastic music which gives you motivation when you are running and make you feel relax when you are walking
----Each stage will bring you to different magic places: Melting Valley, Cherryville, Wolf Canyon and more. It's not only training 5k,but also a fantastic game!
----When you are running, we will give you professional guidance, it can help you adjust you steps and your breath
----When you are experiencing the journey, you can get different achievements and find the things that Alice lost before
---- Voice tips to remind you to be careful when you are running!
---- Calculate your distance & pace and map your routes with FREE GPS support
---- Record every time you running in detail
---- Share your distance & pace and routes with your friends

Continued use of GPS running in the background can dramatically decrease battery life.
Run!Alice- A Fantasy 0-5k Run Traning Game 1.2 Update
New feature: animation replay your every running process
More
More Information
Language:

Chinese

English

More