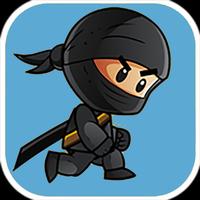 RuNinja
Free Get
Screenshots for iPhone
More Screenshots for iPad
RuNinja Description
RuNinja is a recently released mobile game that is now available on App Store. The main character of the game is a ninja whose life has taken him on an adventure.

Story of the game:
The ninja begins at one destination, crosses hurdles and faces enemies who put up a fight and attempts to restrict the player from moving ahead to their objective. As the game progresses, the ninja moves on to another situation, where along with obstacles, he faces another enemy who again puts forth a challenge that the ninja has to fight to move ahead. As you maneuver your ninja through these different situations and protect him from the enemy, the game gets more intense and tougher as you proceed from one level to another. The difficulty level is directly proportionate to the progress made in the game.

Ninjas that fail to surpass an obstacle or lose the fight to an enemy get eliminated from the game. The fastest ninja that is the one who completes the game first, and the one who collects the most points along the way wins the race.

Motif of the game:
- The main premise of the game is that the protagonist, the ninja, is running a track full of obstacles.
- The core task of the players is to make the ninjas jump over the hurdle he faces, which are made up of spikes on the floor.
- The player has to collect the maximum number of points as they possibly can in order to set the highest possible score.
- The game ends if the player is unable to make the ninja surpass one of the spikes.

Who all can play?
- The game can be played with multiple players individually, and simultaneously making the game a race between multiple ninjas and therefore a valid option in case there is more than one player.
- The player is expected to put themselves in the shoes of the ninja and be fast and go as far as they can in order to collect more points. The game will take you and your ninja through various locations which include forests, villages as well as cities where the player will also face different enemies and obstacles that hinder them from achieving their goal.

So, are you ready to guide your ninja buddy through forests, villages, and cities, fight his enemies collect the most points and cross the finish line first place in this highly addictive and entertaining adventure game?