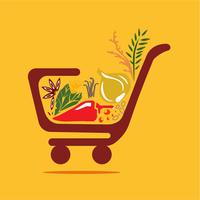 Sabzigram-Online Grocery Store
Free Get
Screenshots for iPhone
More Screenshots for iPad
Sabzigram-Online Grocery Store Description
Sabzigram Online Grocery Store app is an online e-commerce app that allows you to shop fresh fruits and vegetables online. Yes! you can order all kinds of fresh fruits and fresh vegetables online with Sabzigram Online Grocery Store app. Now, you do not need to go anywhere to buy fresh fruits and vegetables.

Following fruits and vegetables are available to order:
:green_apple: green apple
:apple: red apple
:pear: pear
:tangerine: orange
:lemon: lemon
:banana: banana
:watermelon: watermelon
:grapes: grapes
:strawberry: strawberries/strawberry
:melon: melon
:cherries: cherry
:peach: peach
mango
:pineapple: pineapple
:coconut: coconut
:kiwifruit: kiwi
:tomato: tomato
:eggplant: brinjal
:avocado: avocado
:broccoli: broccoli
lettuce
:cucumber: cucumber
:hot_pepper: red pepper
:corn: corn
:carrot: carrot
:potato: potato
:sweet_potato: sweet potato
Amla
Apple
Baby Corn
Banana
Beetroot
Black Grapes
Bottle Gourd
Brinjal
Cabbage
Capsicum red
Capsicum Yellow
Cauliflower
Chikoo
Cluster beans
Coriander
Cucumber
Curry leaves
Custard Apple
Drumstick
Fenugreek
Forest Bitter Gourd
Ginger
Green Capsicum
Green Chilli
Green Garlic
Green Onion
Green Peas
Guava
Kiwi
Lady-Finger
Lemon
Mint Leaves
Muskmelon
Onion
Orange Nagpuri
Papaya
Pears
Pigeon Peas
Pineapple
Pointed Gourd
Pomegranate
Potato
Radish White
Red-Carrot
Spinach
Sweet Lime
Sweet Potato
Taro Root
Tomato
Valor Papdi
Watermelon
White Garlic

We want that freshness should reach every house. So, start using Sabzigram Online Grocery Store app to order fresh leafy vegetabels, along with fresh juicy fruits.
Sabzigram-Online Grocery Store 1.0.1 Update