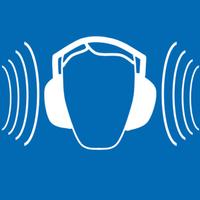 SafeNoise
Free Get
SafeNoise Description
Sometimes you wonder if the sound level you are in, is bad for your ears. SafeNoise shows you when you are at risk of hearing damage. The app measures the sound level and shows how much time you can safely stay in this sound level. The limit used is 80 dB(A) over a period of 8 hours (European legislation). If the Residence Time in the app is down to 0 and the face of the worker icon turns red, it is recommended to start wearing hearing protection or to take distance from the noise source.

After starting SafeNoise, the screen turns upside down. This way you have to turn your iPhone thus pointing the microphone in the direction of the noise. This improves your measurement. Now touch the microphone button and the measurement will start. The averaged sound level is displayed in the middle just under the residence time.

Privacy:
SafeNoise only needs access to the microphone in order to do a sound measurement. SafeNoise does not record the audio but transforms the microphone output voltage to a dB value. The measurement data is only stored in the memory of the phone and cannot be reached from outside. Only the user is able to transfer the measurement data by email in a zip-file. SafeNoise does not need access to contacts, camera, audio, video, messages or GPS.

Disclaimer:
The developers aren't responsible for any hearing damage suffered while using this app. SafeNoise is calibrated on an iPhone 4 and iPhone 5 running on iOS6 compared to a class 1 sound level meter (B&K 2250). The accuracy of the measured sound level depends on the position and quality of the microphone. In laboratory circumstances, the difference is smaller than 1 dB(A) if the sound level is between 50 and 105 dB(A). The differences are bigger in normal life. SafeNoise isn't a replacement of a professional sound meter. SafeNoise has not been tested on iPhone3, iPod or iPad but will work. You have to check the calibration to get an accurate sound level.
SafeNoise 3.1 Update
Compared to build 3.0, the brightness of the display will dimm after one minute instead of 6 seconds.
More
More Information
Language:

Dutch

English

More