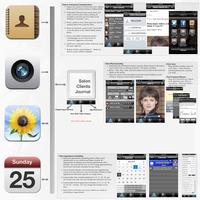 Salon Clients
$9.99
Screenshots for iPhone
More Screenshots for iPad
Salon Clients Description
Salon Clients Journal helps you build and grow your client base by creating a fun and interactive experience for your client by taking Before & After photos for each styling session. Then by allowing the client to rate the results right on your device, you can receive immediate feedback on how much your client loves the styling. These photos are organized by Client and allow the rapid access to a specific client's photos at their next appointment for both of you to review past cut and color results and decide on the style the Client wants.

There is no limit as to the number of photos that can be taken on each visit, so side-shots, back-shots, close-up on bangs and makeup are all possible. "HD" Photos option is available under the Settings tab. Also, a portrait guide for aligning your photograph compositions may be turned on in Settings as well. Photos may be rated in full-screen or within the table view mode. You may also import photos previously taken with your iOS Device.

The App also facilitates freeform written records for information such as hair color, color formulas and other notes that may be entered for each client.

Clients may imported from your Address Book and manually-entered Clients may be linked to Contacts in your Address Book to facilitate advanced features of the app.

Any photo may be sent via email so your client can share their new look with friends immediately.

Salon Clients has integrated Apple's great calendar capability into this App, allow you to quickly set appointments and with iCloud calendars enabled, synchronize all appointments across all AppleID-linked devices. Now, working with a visual calendar, you see appointment conflicts easily, optimize overlap of appointments to maximize your chair time, and with customizable settings for calendar interval, appointment duration, work start / end hours, you have access to the most advanced calendar tool in any App, including Apple's Calendar.

Salon Clients also has built-in quick and practical tools to make you more efficient when you need to contact your clients. With the new "Actions" button for your client linked to your Address Book, you can start phone calls, SMS texting, send emails, even start FaceTime calls with any of your linked clients at a touch of a button. Merely touch the "Actions" button on the main screen or the Client Details screen for any client linked to the Address Book contact.

Salon Clients also allows you to manage treatment release forms, creating new ones as required and obtain client authorizations with a simple finger signing right in the chair. These authorizations are then emailed directly to your client and stored within Salon Clients for quick access if required.

Additional Sharing options are available (Facebook, Printing, and more). With linking to the Contact Address Book, this will allow the automatic addressing of emails containing photos and treatment release forms directly to the client's email.

Salon Clients Journal is the practical way to build your relationship with your clients and let them see clearly, the fantastic job you do for them!

Please contact us at info@nexus-core.com with any questions.
Salon Clients 3.0.3 Update
Bug fix for taking and importing photos into Salon Clients. We lost the ability to crop photos in iOS 11 - I am working on restoring that functionality as soon as possible.
More