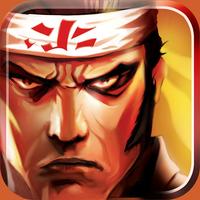 Samurai: Way of the Warrior
$0.99
Samurai: Way of the Warrior Description
☞SAMURAI II: Vengeance released☜
☞ More then 800 000 downloads for Samurai I☜
Best iPhone games of 2009 by Apple, Best App Ever Awards 2009 - Best Game Graphics Honorable Mention Award from 148Apps; and number 16 in the Top 100 iPhone Games of All Time from AppDdvice.

------------------------------
AppAdvice.,com - 4.5/5
touchmyapps - Kiss It rating
iphoneapps-review.com: - 5/5
AppVee.com - 4/5
AppofMyEye.com -Highly recommended
TruthBombers.com - 9/10
Applemania.pl - 100%
------------------------------

Become a wandering samurai in the ancient Japan during chaotic times of war. As Daisuke Shimada you must defeat evil Daimyo Hattoro who spreads terror and fear around the country.

Will you dare to stop him? Will you follow the Way of the Warrior ?

• First hack and slash game developed specifically to leverage the iPhone touch screen.
• No more virtual joyisticks or gamepads, only your finger and touchscreen.
• Visit several unique environments in the Japan in a feudal 16th century setting.
• Unlock all combo attacks and master your skills.
• Never before seen comics storytelling
• Special Dojo mode.
• Game Center Leaderboards and Achievements
• Original soundtrack.
• And much more...

Recommended for fans of hack 'n slash games as Ninja Gaiden, Devil May Cry or Heavenly Sword

Special thanks to :
Devilishly Good, le'deuche123, Fletch, Prab, PureSkill, Rocco, squarezero,

Follow us on twitter
http://twitter.com/MadFingerGames
Samurai: Way of the Warrior 1.8 Update
☯ Dojo - crash fix
☯ Game Center support
- Leaderboards
- Achievements
☯ Samurai II: Vengeance trailer
★ Samurai II: Vengeance released !!! ★
The long-awaited sequel to Samurai: Way of the Warrior has finally arrived on iPhone and iPad! Samurai II is a true successor, aided by over a year of focused development.
Overall production values and vicious action put Samurai II on par with console 3D brawlers. Screenshots don't do Samurai II justice – the fluid action has to be seen running at 60 frames per second on the Retina display or popping off the iPad screen.
The developers listened to fan feedback and improved gameplay throughout. With a new virtual d-pad, dynamic camera, environmental puzzles, traps, and vicious new enemies, Samurai II is brand new experience for hack 'n' slash gamers on the go.
SlideToPlay.com - 4/4
Ipadarena.com - 10/10
AppSpy.com - 5/5
MacWorld.com - 4.5/5
AppAdvice.com - 4.5/5
Gamezebo.com - 4.5/5
Touchreviews.net - 4.5/5
Nineoverten.com - 4.5/5
ifanzine 4.5/5
Gamerstemple.com - 90/100
Pixeljumpers.com - 9/10
PocketGamer.co.uk 8/10
More