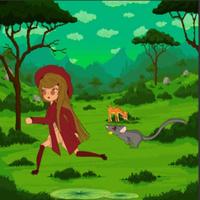 Save The Wife
Free Get
Screenshots for iPhone
More Screenshots for iPad
Save The Wife Description
Save the wife by killing wild rat, spiders and bees.
Save the wife is an entertainment game for everyone, all ages: male, female and children.

Save the wife is really interesting game.A couple is living in jungle and the male has gone for some work. Now the wife is alone and some wild animals are attacking her.Now only a hero can rescue her from these wild animals by tapping them to kill. It helps the players to improve reflective skills. Quick eyes - fast hands. Quickly kill many rats, the speed of movement of the rate, bees and spider will be faster and you need faster. You will get bonus points when you kill 2, 3, 4, 5 ... with 1 Tap to screen. If the bees, spider and rats, mouse moves too fast and you need support.
There are many power ups available in a game. You just need to unlock them and use them to kill these monsters.
You have ghost power to save your wife from wild animals.
Freeze and Bomb are available to support you. Do not let an ant escape and you will be rewarded with Freeze and Bomb items.
Laser Power will kill all these wild monster rats.
Save the wife helps you relax and stay active and alert. And also helps you release your anger and stress.

Features:
- There are several Rats, Mouse, Spiders, and Bees to kill .
- You have up to 5 times to Rats, Spider, bee to injured the wife.
- You have 3 more help to destroy Rats , Mouse , Bees and Spiders:
+ Bomb: Bombs will kill all the Monsters.
+ Freeze: All ants will be frozen in place for 5 seconds.
- Global high score table.
- 3 game modes:
+ Level mode: Have 25 levels.

Enjoy Save the wife , because it's FREE.
And share with your friends play it together.

Notes:
-Save the wife designed for both phones and tablets.
- No need for internet connection or wifi to play Save the wife- Kill Rats . You can play offline.
- Save the wife - Kill Spiders is a free game and contains the ads like banner and interstitial.