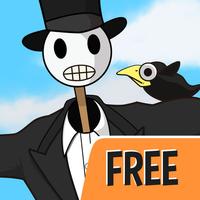 Scarecrow Hero Free
Free Get
Scarecrow Hero Free Description
Scarecrow Hero, an easy to learn and play casual game, is based on old-time classic two-button game devices. You play the scarecrow, and your mission is to protect the melons from the attacking birds! How long can you keep up the heroic effort? Be the hero and do not let the birds get the melons!

As with the old-time games, you may play 'Game A' or 'Game B', where 'Game B' has a higher level of difficulty.

How to play:
• Play Game 'A' or 'B'
• Tap on the buttons on lower left and right corners of the screen to move the scarecrow left and right
• The Special Attack gauge on the top left corner of the screen will glow when you have destroyed enough birds consecutively
• To launch the Special Attack, tap and hold both buttons at the same time, then simultaneously slide both fingers toward the center of the screen (left button finger slide towards the right, right button finger slide towards the left)


Watch out for those pesky birds, some of them are sneaky!
Scarecrow Hero Free 1.1.0 Update