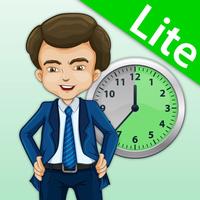 School Task Timer Lite
Free Get
School Task Timer Lite Description
A Simple (Free) Fun Timer, designed for teachers, or anyone else who needs to set timed tasks for groups of children, in a classroom or similar environment.

The teacher sets the required time period, type in the task to be completed e.g. "Return all equipment and then sit in your seats without talking".

The engaging graphics and sound effects mean tasks get completed in a fun and efficient way. There are an additional 3 themes (in-app purchases) to keep the App interesting and allow for different age ranges of students.

The teacher sets the target amount of time for the class to perform a particular task and adds a description of the Task, which is displayed to remind the students of what they ought to be doing. The countdown timer is then started.

The timer can be viewed from the Apple device itself or displayed on a larger format device such as an interactive board or TV screen using screen mirroring features of the Apple Devices.

If the class completes the task in the defined time limit the teacher can tap the "tick" button and the "Well Done" screen is displayed and a sound effect is played. However, if the class run out of time a "Times Up" message is displayed with an accompanying sound effect.

This app really encourages students to complete any assigned task, the students can see graphically how much time they have left to complete the task.
The teacher is able to pause, restart and reset the timer at any time.

The app has an audible "ticking" sound when the timer is running, the teacher can enable and disable this by simply tapping the speaker button on the apps main screen. The other sound effects can be controlled via the audio controls on the Apple device.

This is a simple but fun and engaging app to assist the teacher in their classroom management activities.

Users are able to send feedback, make enhancement requests or report any issues from inside the app.