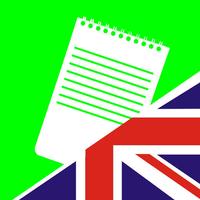 SCIAGA: Czasowniki ENG
Not Available
Removed
from the App Store
SCIAGA: Czasowniki ENG Description
155 czasowników nieregularnych języka angielskiego w weekend?

Tak, dzięki aplikacji SCIAGA jest to możliwe.
Przetestowaliśmy na sobie i udało się, a sposób przyswojenia materiału zamieściliśmy w samej aplikacji.

SCIAGA to aplikacja zawierająca listę 155 czasowników nieregularnych z tłumaczeniami w języku polskim.

Całość pogrupowana w rekordy pytanie/odpowiedź.

W aplikacji załączona jest instrukcja jak postępować, aby w dwa dni przyswoić sobie 155 nowych angielskich słówek i zapamiętać ich pisownię.

SCIAGA posiada możliwość dopisywania własnych list i przyswajania ich w formie testów.

Przekonaj się, że zapamiętanie 155 angielskich czasowników w weekend jest możliwe!
SCIAGA: Czasowniki ENG 1.0 Update