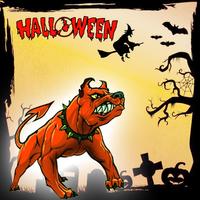 Scooby Halloween
Free Get
Scooby Halloween Description
Scooby is an adventurous dog.
At Halloween night, A witch witchcraft him became one devil dog with terrible strength.
To return to his original body, the witch catch him to find the magic stones.
Scooby must fight the demons and zombies running and jumping.
Let's help Scooby destroy all zombies and evil demons, find magic stones to return to his original body.

****** HOW TO PPLAY *****

- Tap left button to jump.
- Tap right button to attack.
- Shoot and pick the item in the sky to upgrade heath and more power fire.

Now Let's Play !!!! Very funny !!!
Scooby Halloween 1.0.3 Update