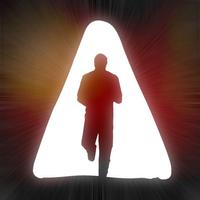 Scram
Free Get
Screenshots for iPhone
More Screenshots for iPad
Scram Description
Lights fail in its presence.
They flicker off, one by one.

It sees you.
It's coming for you out of the dark.

You run, dodging over, under, past debris.

This has to be one of those dreams.

Where you run, and you run, and you run,
and just before the thing gets you, you wake up.

But what if it isn't?

What do you do if you can't wake up?

You run.

Faster.

---

Experience Scram, an atmospheric first-person 3D-running experiment brought to you By Implication.

Features:
• Immersive 3-D Graphics and Visual Effects
• Simple, Fast-Paced Gameplay
• Original Theme Music
• Leaderboards
• Game Center Achievements
• Retina Display Support
• Twitter Integration for iOS 5 Users
• Universal Compatibility

Visit us at byimplication.com
Follow us on Twitter: @byimplication
Like us on Facebook: fb.com/byimplication
Scram 1.1 Update
This update brings Universal (iPad/iPhone/iPod touch) compatibility, and a number of graphical enhancements.
• Support for the iPad and iPad 2
• Minor timing and balancing adjustments
• Field of View shifting / Tunnel Vision — speed up to see this. We welcome feedback on this particular effect.
If you have an iPad 2 or iPhone 4S, you're in for a treat.
We take advantage of the fancy A5 CPU to give you:
• 60 frame per second rendering — silky smooth motion!
• Depth of Field — pretty awesome and subtle effect. Speed up to see in action.
• Blur effect on impact
More